Yep I'm still around. I took a long break from blogging. I didn't intend to be away so long but life has a habit of getting in the way but it's a new year and I'm back to crafting. I hope start entering challenges again and hope today's is just the start.
Today I made a box card. Here it is: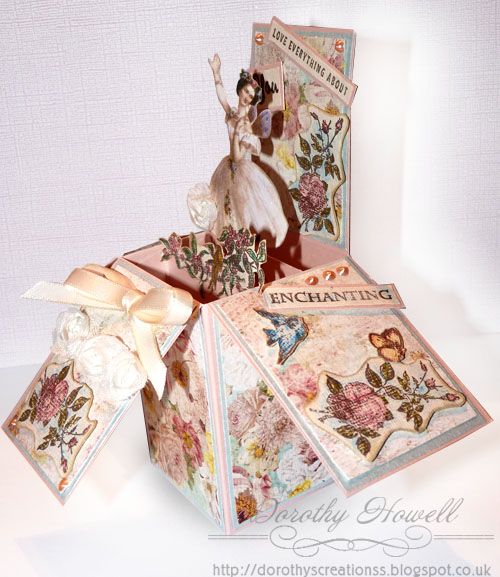 I just LOVE the dimensional effect of this card. It folds flat too! I followed a YouTube tutorial for this box card:
Box Card to Fit in a C6 Envelope
. I received my new copy of
Simply Cards and Papercrafts
magazine yesterday and as a free gift inside was a 6" x 6" paper pad and set of clear stamps in the new Prima Fairy Belle range. Goodness it was so gorgeous I went on a seach for something to make with it
.
I encourage you to try out the box card tutorial and I'd love to see your results so leave me a comment and show me your stuff.
I entered this card in the following challenges:
Digitally Sweet Challenge -
Anything Goes
Debbi Moore Designs Challenge - Love

Cards Galore Encore Challenge - Anything Goes

Natalie and Amy's Challenge - One for the Girlies

Sparkles Monthly Challenge -
Show Off Your New Stash
The Crafting Cafe
- Anything Goes
Challenges 4 Everybody
- Anything Goes
Scribble and Scrap Blog & Challenge
- Anything Goes
Have a Craftastic Day!!