Here is one of my latest cards. Scroll to bottom for the freebie: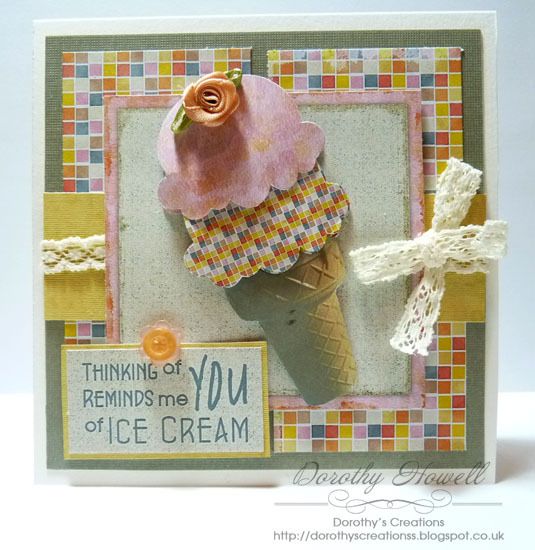 I myself don't eat ice cream but a cone like this sure looks tempting...lol. I happen to be sensitive to dairy. It's a food allergy I found out I had about 4 years ago so now I don't drink milk, eat ice cream and stuff like that. The only dairy item I do eat is yogurt which doesn't upset my tummy. I guess I can think of the ice cream cone on my card as containing frozen yogurt then!
SUPPLIES USED:
White 300 gsm card base
Tawny Grey cardstock from DCWV Neutrals card stack
Ribbon Rose, beige lace and buttons from stash
Backing papers, Ice cream decoupage and sentiment created by me in Photoshop (see below)
CHALLENGES ENTERED:
FREEBIE:
A note here: I created this card using items I created in Photoshop and printed out myself. Inside the card I put "...because you are so sweet!" As a little freebie, I have the printable sheet I created to make this card so you can download it if you like and have a go. I created all the elements of the card myself including the background papers. Hope some of you can use it!
Have a Craft Happy Day!