It's time for a new challenge at Crafty Creations Challenges and we do hope you will join us. Our lovely sponsor is
Freshly Brewed Designs
. This week's theme is "Just One." Basically use just ONE of things on your card. For example, on my card below I did one image, one designer paper, one button, one dove, one ribbon, one bow and one flower: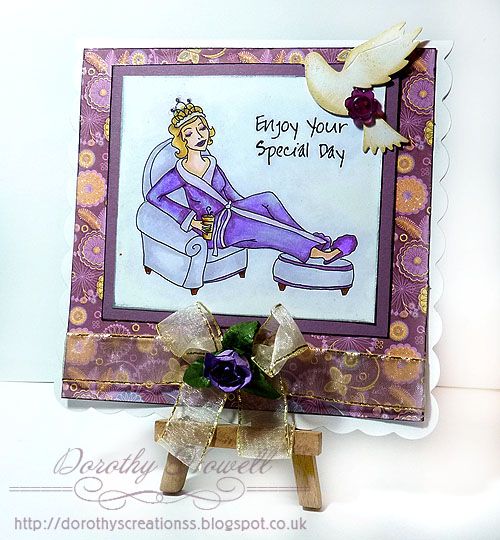 See how I used just one of each item. Sorry about the colours in the photo. If you saw the card in real life the colours I used on the digi stamp match the glittery designer paper. I ried to correct in Photoshop but it looked horrible so I left it. UGH.
SUPPLIES USED:
Queen for a Day digi stamp -
Freshly Brewed Designs
Flowery Glitter Designer card - First Edition "Dreamcatcher" 6" x 6" paper pad.
Copic Ciao Markers
Button - from stash
Dove die cut, ribbon and purple flower - received from craft swaps.
I hope you will check out this fortnight's challenge at Crafty Creations. Can't wait to see what you create!
Happy Crafting!
Dorothy