Hi peeps! t's been awhile since I posted on
WOYWW
. Well here is what my craft desk looks like this morning: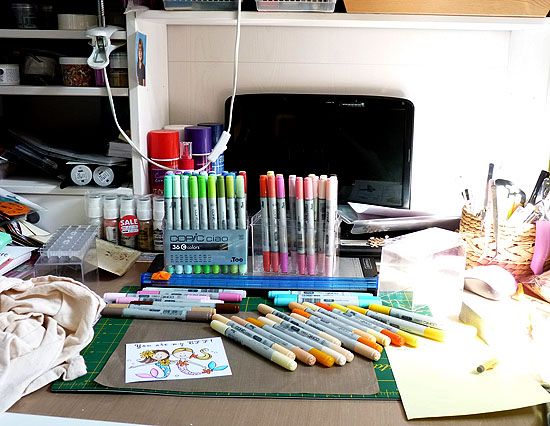 Funny thing though...this is what it's looked like for 2 days now. I was a happy little bunny colouring in a bunch of digi stamps whne my hubby so rudely interrupted me. He dragged me away from my craft room and that was 2 days ago and I've not been back since...even to tidy up! I go by the room every once in awhile to longingly look at my lovely Copics but am feeling a bit uninspired. Bleck!
On the positive side, it's a gorgeous sunny day here is Essex and I made it actually into the room itself to take this photo. I'm going in there in a few minutes to finish that digi stamp and finsh my DT projects...I mean it, I really am...lol. Go ahead and join us over at
WOYWW
and show us what's on your craft desk.