Woo hoo! I applied for a Design Team and have been accepted over at Digitally Sweet Challenge Blog! I am so happy this one will be my first as I love digital design. All the gals there have been so encouraging and friendly, I know it will be a good time. Not only do I get to work with terrific people, I also get to work with wonderful digital art from our sponsors.
So I whipped up a card last minute for this week's challenge:
(Use STARS on your project)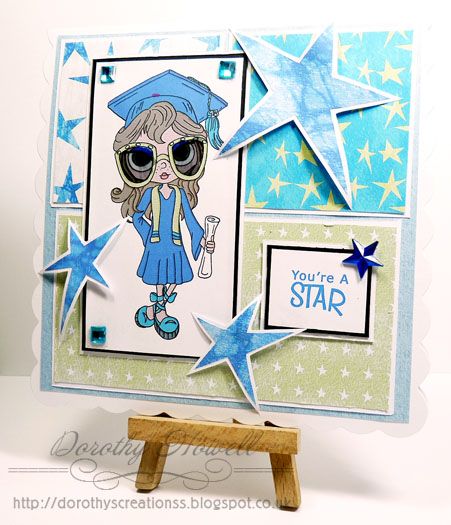 We were given a choice of images to use by this week's sponsor,
Lacy Sunshine
. I chose this adorable Graduate girl. I colourised the digi stamp in Photoshop in colours that matched the papers. I added Pinflair Glaze to her eyeglass lens. The photo doesn't show how glaoosy it is, it just looks like she has sunglasses on...lol.
Supplies Used:
Scalloped 6" x 6" blank white card
Big Blue stars and sentiment also designed by me.
White and Black cardstock for matting layers.
Square and Star gems from stash.