A friend of mine asked me to make her a card for her parents Golden 50th Anniversary and I agreed. I thought of a few designs and settled on an easel card...then I had an even better idea. I remembered that a long time ago someone gave me a bookatrix board. Funny thing that I foundit quite quickly in my mess of a craft room...lol. So I grabbed an old folder of peel offs and lots of white cardstock and away I went to making my very first ever bookatrix card.
I even created it's own stand and presentation box: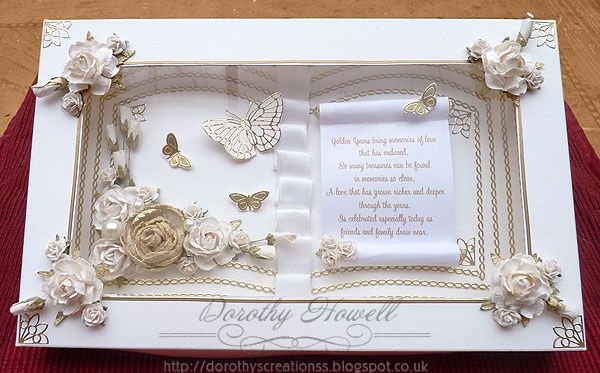 My friend just loved it as she had never seen anything like this before. I sure hope her parents like it as well. Thanks for having a look at my creation!
Here's my supply list:
White 300 gsm card (A3 sized) -
Papermill Direct
(I LOVE their card)
Gold peel offs in butterflies gold links, lines and fancy corners. Can't remember where these are from.
All white flowers -
Wild Orchid Crafts
Largest gold paper rose -
Hobbycraft
(white rose misted with homemade gold glimmer mist)
Folk Art Antique Gold paint (I painted the green leaves under the flowers in gold)
I would like to enter my bookatrix in the following challenges:
Crafting When We Can
- Anniversary
Challenges 4 Everybody
- Anything Goes
Glitter n Sparkle Challenge
- Anything Goes
Scribble and Scrap
- Anything Goes
That Craft Place Challenge
- Anything Goes