It sure has been a rough winter around here. Beside it being so cold for so long and my hubby and mine's (accounting, bookkeeping, payroll) business is growing, doesn't seem I've gotten much of anything else done. No cards, no crafting, no scrapping....NOTHING. I do hope that's about to change though...lol.
Now that spring has finally sprung here in the UK, hubby and I are finally starting to get things done around the house. One new thing is the stuffed up gutters on our house. In 2 sections they are so filled that they caused leaks in our ceiling inside...YIKES! That's scheduled to be fixed. We have spring cleaning of our bedroom on for this weekend. Next on the agenda in renovating my little craft room.
And I can't wait!! I am a messy crafter but I do like having my tools and bits organised. It's easier to find things when each item has a home. My biggest problem with my craft room is....I cannot keep anything up higher because I am in a wheelchair. Since I'm paralysed I cannot stand up at all so I cannot put things on nice shevling units. Everything and I do mean EVERYTTHING has to be down low within my reach. And my room is small, just a little extension really, that has to fit my wheelchair it in. Once that project gets going I will get some photos posted.
In the meantime, I'm doing some digital scrapbooking. A few weeks back I joined the Designer Mentoring program over at
Scrap N Pieces
. We are in week 4 of 6 and once our kits are done, I 'll let you know when they go up for free download in their forum so you can snag some great digital kits. There are a bunch of categories and I'm an Intermediate designer so my group each member is making their own kit, same with the other Intermediate group and the Advanced. The Beginner groups are making a whole group kit. For my kit, it's called
"Each Day is Ours"
and here is my colour swatch:

That leads me to the last item for today. I opened my Craft Artist Pro this morning to make a layout! Shock horrors I know...lol. I found a challenge blog that is for digital craft and scrap images so I thought I would enter this week. Here is a layout of my lovely daughter.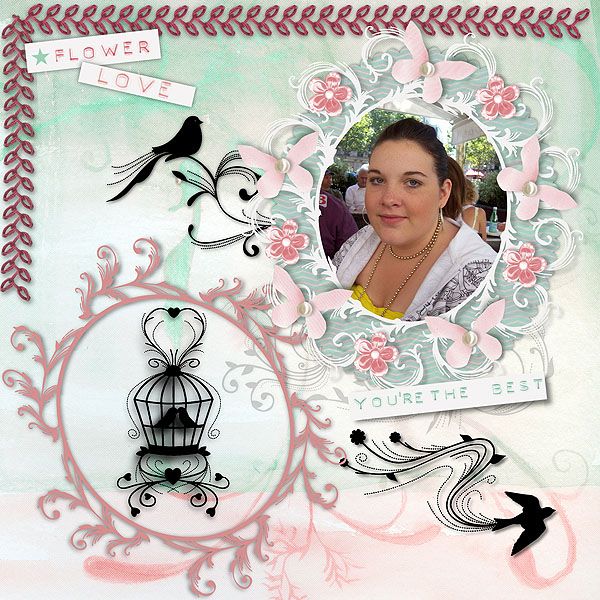 I have lots of graphics programs: Photoshop, Paint Shop Pro, GIMP...but I do like making scrapbook pages in
Craft Artist Pro
. It's so easy and I love the templates. i even converted a few of my kits to CAP!
I'm entering this layout in the following challenges:
Digitally "Sweet" Challenges
- Bingo "N" frames, flourishes, free, sewing, ovals.
C.R.A.F.T Challenge
- A stitch in time, use stitching
Thanks for looking!