Wow 2 posts in one day! Can't you tell I'm bored...lol. Nah not really. Well first let me tell you about MOLD as in mold and mildew. We took out my countertop with cabinets underneath and in the corner of the craft room there was a huge damp patch covered in black mold. I didn't get a chance to get a photo of it though. It was up the wall and all over the floor as well. Hubby bought cleaner for it and damp proofing stuff. He added mold resist paint to it. Then he patched the wall for new paint.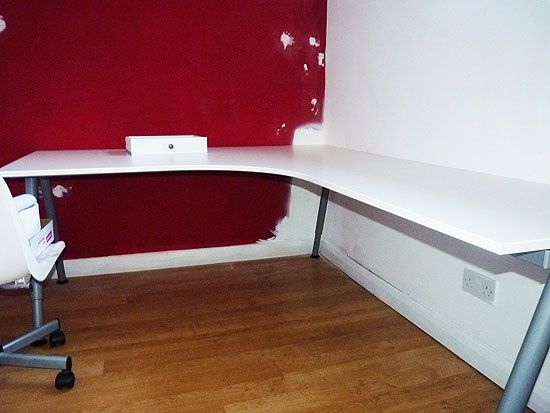 And there is my new desk all put together! I still need to get some storage drawers for underneath though. But you can see how the skirting board is all warped from damp. This is the front corner of the house and we're pretty sure our gutter is all stopped up there which is why water ran in the wall. Our roof gets covered in green moss and it falls off the roof all over and gathers in the gutters...yuck! I decided to change the red wall colour. It's going to be teal blue instead...woo hoo.
Next part here is a tutorial of sorts. I got a bit craft deprived these last few weeks so I sat and watched You Tube videos. I also watched too much Creat and Craft tv...lol. One day on C&C they had this Martha Stewart air dry clay and moulds on there and I thought that looked like fun...useful too. But the clay was a bit expensive so on to You Tube I went and found tons of videos on how to make your own air dry clay with cheap and cheerful ingredients so I thought I would try it out. Search for Cold Porceline tutorials on YT.
First I ordered some cute moulds. I ordered mine from
Picklelilly Moulds
. She not only had a big selection, the prices and designs were great. Then off to Tesco for the ingredients.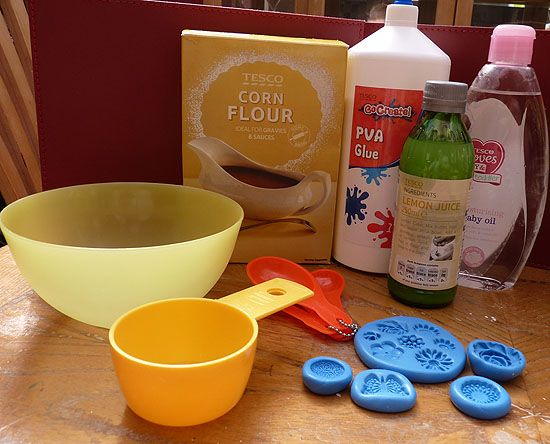 After watching about 20 different videos on how to make this, here is what I found worked for me:
Ingredients:
1/2 cup Cornflour
1/2 cup PVA Glue (I got my huge 1 litre bottle for £5)
1 tablespoon Lemon Juice (you can also use white vinegar)
1 tablespoon Baby Oil (you can also use olive oil or vegetable oil but note these may tint your clay)
Hand or Body Lotion (whatever you have around the house or just get cheapest)
Non stick craft mat or plastic wrap or greaseproof paper
Plastic wrap and zip lock sandwich baggie
(If you want more clay, just double the recipe and use a bigger bowl.)
SUPPLIES:
Mixing bowl (if choosing microwave method, make sure bowl is microwavable)
Mixing spoon
1/2 cup Measuring cup
1 tablespoon Measuring spoon
Add cornflour to bowl. Use spoon to break up any lumps in it.
Add PVA glue and mix together until combined.
Add both the oil and lemon juice.
Stir mixture until as smooth and until it pulls away from the sides of the bowl.
There may be a film of oil on the top of the mixture that doesn't get completely mixed in but that's ok.
Lay out your craft mat or big piece of greaseproof paper on the table.
Smear a little of your body lotion on the surface of the craft mat or greaseproof paper.
Now here is where I tried 2 different methods:
Method 1
- Cold straight from bowl
Empty the bowl of cornflour/glue mixture onto the body lotion. Add more lotion to your hands. Knead this like you would bread dough until is smooth and stretchy. This takes about 10 minutes.
Roll the clay into a fat tube shape, wrap with pastic wrap, put it into a zip lock sandwich bag and refrigerate overnight.
Method 2
- Microwave first
Put the bowl of cornflour/glue mixture into the microwave and heat for 20 seconds.
Remove and stir with spoon. Micrwave for another 20 seconds. Remove and stir again.
At this point check the consistency of your clay. If it seems too runny, microwave for another 10-15 seconds. The consistency should be creamy, stretchy and very slightly stiff. DO NOT OVERCOOK!!! I overcooked mine and you will see below how it turned out.
Empty bowl onto body lotion on craft mat/greaseproof paper and knead until smooth. (WARNING: clay WILL BE HOT. Knead as you can until cooled.) Roll the clay into a fat tube shape, wrap with pastic wrap, put it into a zip lock samdwich bag and refrigerate overnight.
Here are my new moulds and the 2 batches of clay after they have been moulded and dried completely.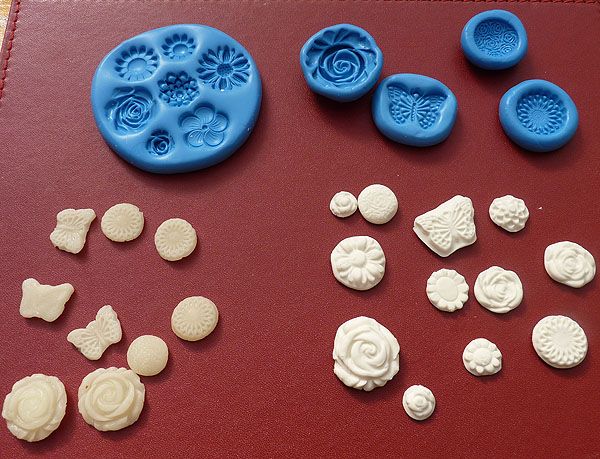 Aren't those moulds just the cutest???!!! They will make great embellishments for cards and other projects. Also some will be great for flower and bow centres.
Now on the right is the non cooked method clay after it has dried. This clay when moulding was very soft and silky. It was hard to get into the mould and hard to get out of them too because the clay was kind of mooshy. I had to redo them a lot of times. But the clay was nice and white and dried a nice translucent white as well. The pieces are light and feel just like dried clay.
On the left is the microwaved clay. I overcooked this clay by about 10 seconds. It was too hard and turned yellow on me. But it was really easy to get into the moulds and especially easy to get out with designs intact first time. But they dried even more yellow and they look rubbery once dried. Feels more like resin not as nice looking. That's why I have to stress to not overcook this stuff!
Note on drying these. The right side non cooked ones I dried for 8 hours on one side then turned them over so the underside dried for another 6 hours. The left side cooked ones, are still not dried in the middle after 2 whole days. So each recipe has it's problems but I think I'm going to stick with the non cooked recipe for my next batch.
Store your clay in an airtight container. You don't have to keep it in the refrigerator all the time, just the first overnight. I suggest you stick some damp kitchen roll sheets in there with the clay. When using the clay, add a squirt of hand lotion to your hands to knead the clay before each use. This will remoisten the clay and keep it from sticking to your hands.
Note about gloves...I actually made 3 batches but the first batch became a disaster when I tried to use rubber kitchen gloves to protect my hands to knead it. It glued onto the gloves even with lotion and ruined not only the clay but also the gloves. In fact they melded together so badly you couldn't tell where the clay started and the gloves ended. Both got binned. Use bare hands when doing this with lots of lotion on them...works fine and dandy.
As soon as the craft room is done, I'm going to paint, glitter and fancy these up. I'm also going to make some beads with the clay. Those will work a treat. Fun fun fun!!! If you give this a try, drop me a comment and link to your photos. I'd love to see what you come up with!!
Have a great bank holiday weekend!