I have a busy week ahead wth lots of DT projects crafty work due (YEAH) and lots of real bookeeping work due (BOO.) Thought I would start of the week showing off my latest swap over at
UK Ireland Craft Swap FB group
and show off a mini
Hobbycraft
haul from yesterday.
First the swap! This swap had us sharing our stash of washi tape with a partner. My partner was Tina and here is what we swapped. Tina sent me an old gift card wrapped with four diffferent washi tapes. they were all so pretty. A couple of them vintage looking which I really liked. She also sent me lots of black and white feathers, lace, ribbons, chipboard bits and some lovely purple flowers.
Here are the things I sent to Tina. I took some thick plastic packaging and cut out two rectangles the same width as a gift card but made it almost double the length. Then on one of the plaastic pieces I stamps some swirls with Stazon ink, I used Glossy Accents to glue the pieces together to make it thicker like a card. I rounded the corners and punched a hole to run some ribbon through. I wrapped lots of washi around it. When the washi is gone, it could make a nice bookmark for her trusty Filofax...hee hee hee. I also sent her a Christmas ornament, some hook and loop (Velcro) circles, stickers and burlap butterflies.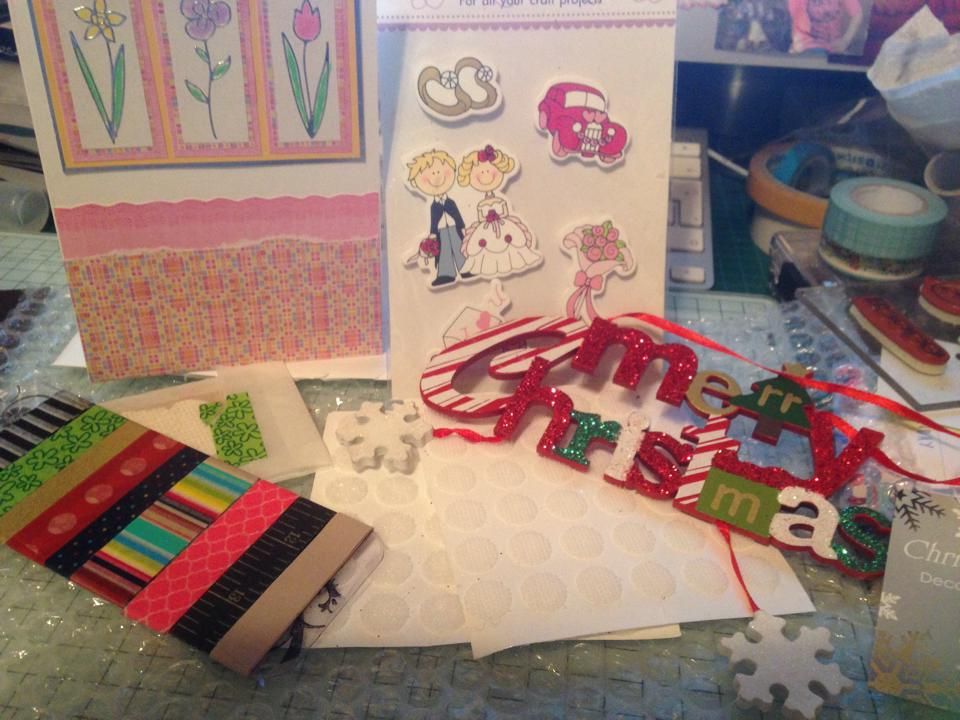 Well after church on Sunday, hubby took me over to the local Hobbycraft because I was wanting some styrofoam eggs to make these cool Christmas ornaments I plan to do so while I wandered around Hobbycraft, hubby went to run another errand. Letting me loose by myself ya just KNOW I bought more than just eggs. Yup I did. I had to control myself because 1. Hobbycraft is expensive and 2. I'm trying to budget my crafty spends per month. So here is what I came out with totalling under £25.
As you can see I got myself 6 styrofoam eggs. But the shop really started as I entered the door. My Hobbycraft has lots of bins right inside the door with goodies in them. So I picked up a roll of double sided tape and those 2 wooden spoons (£1 each.) I also grabbed some clear large bauble ornaments that are fillable. Then I hit the bead section. Oh my it's so much bigger now with really gorgeous beads. I restrained myself and only bought some bead caps and a set of charms. Then I found the Tim Holtz section, which thankfully was mostly empty but I picked up some garment clips as I've never used them before but the look useful. Last area I looked was at the paper. This 12" x 12" Grace Taylor pad called "Parisian Chic" was on sale for £5 so picked that up as well as some matching cardboard pieces for £2.50. I know it's all a little haphazard but I'm a relatively new crafter and I don't have much stash. I lack embellishments really. But I do have some things to work on now (not that I didn't before lol) but I'l have a think on those spoons (shall I do Christmas or simply Vintage style?) and clear baubles. I'm planning a mini album with the paper and matching pieces. Whew...better get myself in that craft room of mine and get to work!
Thanks for reading and Happy Crafting!
Dorothy