OOPS...I forgot to post about this earlier in the week. I guess I was still in birthday mode with getting absolutely nothing done for a week...lol. I particiapted in a crafty swap over at
UK and Ireland Craft Swaps
. I was paired up woth Donna, which was cool as she lives in the same town I do.
The swap rules were to make a set of 3 inchie art tiles, any theme we wanted and a set of 3 altered dominoes.
First let em show off what Donna sent me. I got this weeks ago, she was so fast! Me, I'm slooooowww.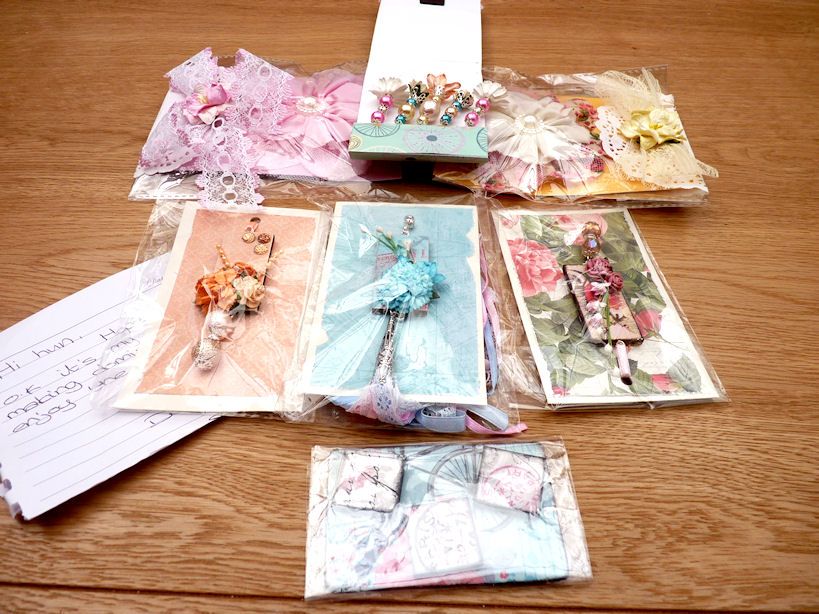 It's kind of hard to see them as I rushed to get the photo done. I should have taken them out of the plastic first. Ah well, lesson learned there. The art tiles are really hard to see but they are pretty, trust me! The middle items are the dominoes. She didn't use real dominoes but thick MDF ones from Fernli Designs methinks. Each is mounted on its own pretty cardstock base. She also put dangles on them all too. All of them are simply gorgeous! The top items are some extra goodies she made me. She made me 2 handmade lace flowers in adorable packaging and a set of homemade jewelled stick pins. I love them all! I don't do much beading or dangly bits so I always appreciate things like that.
Here are the altered dominoes and art tiles I made for Donna. She did receive mine and has seen them. I'm glad she liked them too.
I didn't photo the extra bits I gave her. Mine weren't as nice as hers...lol. I sent her some laser cut wood bits, lace and stickers. For mine I used real dominoes. These are not the big ones but are a pack of smaller size donimoes that are perfect for necklaces. I measured the domino and printed out 3 digital images that I resized to correct size in Photoshop. Then I looked for colours to colourise the sides and backs of the dominoes. One coloured with my black Copic marker. For the roses image I used Ranger Alcohol Ink in Cappucino and using that and blendng solution to get a marbled look to it. On the pale image one I painted it with Mother of Pearl acylic paint. I cut the images and glued them onto the dominoes with Glossy Accents. I sealed the whole dominoes front and back with Mod Podge so the ink jet prints wouldn't blur. Then to seal the top and image I used Ultra Thick Embossing Powder and my heat gun. These gave the top a slightly rippley shiny look which I liked. Then I added the embellishment to each: a little metal key, a black gem and a flower.
I wanted these to be used as a necklace or something your could hang onto something else so I added bales to them with E6000 glue. Then I made my very first necklace! I took black waxed cord, a lobster clasp, jump rings and bar ends and put them all together myself. I had to make sure it all fit through the bales so it could be interchanged between the dominos.
For the art tiles I started with 2 mm greyboard that I cut into 1 inch squares. I glued the 3 images I printed out on them. Then I had a think about what else to do to them. I've made a few art tiles before that turned out nice but I wanted an Autumnal theme to match the vintage images. Then I saw it...my Indigo Blu jar of guilding flakes in Lancashire Rose. These guilding flakes are a mixture of gold, copper, silver and fushia metal flakes. GORG! SO I had a dig through my stamps to see what I could stamp over top and I wanted lots of shine so I chose a Penny Black stamp with lots of solid background. I stamped on the tiles with the Indigo Blu glue, added the guilding flakes, scooched off the excess, used Black Soot Distress ink to colour the sides and back of tiles, sealed with Mod Podge then again used Ultra Thick Embossing Powder on the top. I love how they turned out!
I used my X-Cut Doorplate dies to make the display backings out of cardstock then added a little bow and flowers.
Images Used:
Pale birdie image domino - I forgot and can't find it now. :(
Other Supplies Used:
Xcut 5-Piece Large Nesting Dies Doorplate
Ultra Thick Embossing Powder (generic brand)
Indigo Blu Lancashire Rose Guilding Flakes
Indigo Blu Flitter Glue
Thanks so much for reading! Hope you enjoyed and...
Happy Crafting,
Dorothy